Ninety years of history, high specialization and top reliability: those are the main features of Mingazzini, a company that was founded in 1929 in Parma and today is an international benchmark in the industrial steam boiler sector. The company provides customized answers inspired by its vocation for plants that are more and more reliable and highly technological, guaranteeing safety, professionalism and excellent service consistent with the "Mingazzini standard". The company, in fact, has been driven by the Research and Development department for almost a century and is able to provide innovative solutions and to anticipate market demands with plants and production processes that are constantly tested and updated from a technological point of view, ensuring top quality and highest efficiency, minimizing at the same time the NOX and CO2 emission values.
Our history and know-how to answer to every new and challenging need of the customers
Mingazzini has always focused on the production of industrial steam boilers with state-of-the-art design for the most efficient management of heating plants of any size, including remote control and management, as well as operation without continuous supervision for 24/72 hours.
Every plant built by Mingazzini is carefully engineered and personalized as a tailored suit, in perfect Italian style. The experience gained directly on the field over the decades and the deep knowledge of the process requirements in the most varied sectors are strategic factors that allow Mingazzini to offer a comprehensive service to customers. This also includes innovative solutions designed to meet specific needs, maximize the investments and reduce the energy consumption.
A fundamental dimension, where a relevant increase in the performance of the latest Mingazzini boilers stands out, is the one regarding the gradual reduction of atmospheric emissions thanks to more innovative combustion systems. Combining new-generation "Low NOX" burners to the large combustion chambers that characterize Mingazzini boilers, it is possible to obtain NOX and CO values able to respect the most restrictive local and international regulations in force for emissions.
A specific mention is then deserved by the exclusive energy recovery systems that are specifically studied and produced case by case.
Every steam boiler of the PB and PVR series guarantee a 90% standard efficiency. Depending on the number of working hours and the type of fuel used, the company can supply energy recovery systems dedicated to the single generator, to achieve efficiencies up to 97.5%. Finally, even higher results can be obtained with the "ARS – Advanced Recovery System" series that is tailored to the customer to achieve efficiencies up to 99%, pushing to the extreme the condensation of the fumes in order to recover as much latent heat as possible (in addition to the sensible heat).
Mingazzini produces a wide range of steam, superheated water and hot water boilers, as well as heat generators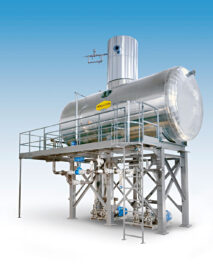 To provide a 360-degree service covering every need of the heating plant, Mingazzini also designs and manufactures atmospheric and pressurized deaerators with capacity up to 60 m3 and rated pressure up to 10 bar, as well as steam manifolds approved according to PED, blow down vessels, water tanks, feed water softeners and reverse osmosis plants.
Quality is one of the essential values of a company whose brand name is a guarantee for the customer. Referring to third-party formal certifications, since 2001 Mingazzini's Quality System obtained the certificate of conformity to the ISO 9001 Norm on the part of Lloyd's Register Quality Assurance. Moreover, the company obtained since 2002 a certificate of approval of its Quality System with Guarantee of Total Quality according to Module H1 of PED Directive, now Directive 2014/68/EU (Certificate of assessment of Conformity based on Full Quality Assurance plus Design Examination according to module H1, as per Attachment III of the Directive 2014/68/EU).
The client companies addressed by Mingazzini are facing more and more complex challenges and that's why they deeply appreciate and look for quality and reliability as fundamental characteristics of the plants they're investing in. Those are imperative features that must be coupled with the most innovative solutions to guarantee the lowest energy consumption and the highest respect for the environment. From the design and manufacturing point of view, Mingazzini firetube boilers fully answer those requirements. They are engineered, built and tested according to the European Directive 2014/68/EU (PED) and have been designed for both "heavy-duty" uses and maximum energy saving.
This joint objective is possible thanks to the most modern technical solutions in terms of engineering together with the most advanced manufacturing systems.
According to the company's approach, in order to ensure quality and reliability, at the design level a steam boiler must feature fundamental technical and production details, well recognizable in all Mingazzini boilers.
Uncompromising quality and reliability combined with the most innovative technological solutions are Mingazzini's distinctive factors.