IBS focusing the future in paper making
The patented IBS iTABLE offers controlled dewatering and stock activity in the formation area to the papermaker.
Adjustable dewatering elements in combination with vacuum and moisture control enables to control the sheet structure, giving benefits like improved formation, improved strength properties, improved paper surface, reduced fibre costs, reduced chemical costs, reduced energy consumption and others. The system solution is available in manual and fully automatic mode, gives typical ROI values below 12 month and is meanwhile proven in more than 70 installations worldwide.
The IBS safetyMASTER is a traversing measurement device for doing moisture and permeability profiles in the press section without crossing the paper machine. It consists of a stainless steel beam and a shuttle which can carry all on the market available measurement devices. The shuttle is fully autonomous, no connections to power, air or water needed. Various beams can be placed in all critical positions and served by one shuttle. Benefits for the papermaker: Safety first, as there is no need any more to pass the paper machine in cross direction. 100% reproducible measurements, independent of the felt supplier. Beams can be placed where so far no measurements were possible due to missing walkways.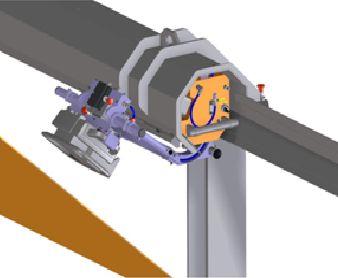 The IBS iPRESS is an individual system solution to improve the press section performance. Depending on the project targets and a comprehensive machine audit IBS combines products like our perforated press cover pressMASTER, uhle boxes, the automatic valve EPB+, the flow measurement flowMASTER, doctors, showers with PMS rubynozzles, the traversing cleaning unit fabriCARE, JAKOB steamboxes, JUD guides & tensioners etc. to a tailor-made solution – on request packed in automated control loops. Typical benefits for the papermaker are improved dryness into the drying section, improved felt life time, improved run ability, improved profiles, reduced energy consumption, downsized vacuum plant, improved process transparency  or less water consumption.