ANDRITZ to supply major pulp production technologies for ARAUCO's MAPA project in Chile
The order value for ANDRITZ is in the region of 300 million euros; start-up is scheduled for the first quarter of 2021.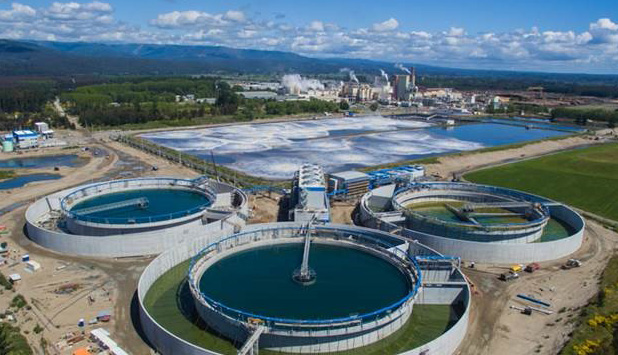 ANDRITZ has received an order from Celulosa Arauco y Constitución S.A. to supply energy-efficient and environmentally friendly pulp production technologies and key process equipment for modernization and extension of the ARAUCO pulp mill in Horcones, Arauco, Chile.
The ANDRITZ scope of supply includes – on full EPS (Engineering, Procurement, Supervision) basis:
— A complete wood processing plant with three debarking and chipping lines, one chipping line for forest-debarked wood, chip storage with stacker-reclaimer blending bed system, chip screening, bark handling with BioCrushers, and is completed with HQ-Press bark presses that increase dryness of the bark and consequently the energy efficiency and production of the bio mass boiler. Eucalyptus is debarked at a rated capacity of 360 m3/h solid over bark per line using RotaBarker technology, which provides excellent debarking results with very low wood losses. The chipping process uses horizontally fed HHQ-Chippers, ensuring high capacity (400 m3/h solid under bark) without compromising on chip quality. The operation is supported further by SmartWoodyard products like the advanced decision support information system, ChipperEKG and CrusherEKG condition monitoring systems, and ScanChip chip analyzers for chip quality measurements.
— A complete fiberline with a capacity of 4,700 admt/d bleached pulp, including Lo-Solids continuous cooking with TurboFeed chip feeding system, brown stock washing with multistage DD-Washers, 2-stage oxygen delignification followed by deknotting, screening, and multistage DD-Washers. Bleaching is based on proven upflow reactor technology and washing is performed with DD-Washers after every stage, all contributing to low chemical consumption, high-quality pulp, and low environmental emissions.
— An energy-efficient black liquor evaporation plant with a high capacity of 1,750 tons/hour. The plant will have a 7+ Effects heat economy system and concentrate black liquor to the high dry solids content of 80% for efficient combustion in the recovery boiler. The plant is equipped with the latest of ANDRITZ's innovations in secondary condensate quality enhancement for 100% reuse in other departments of the mill. The scope also includes a tank area and methanol liquefaction system. ANDRITZ's lamella technology and the unique process solution for scaling control reduces washing needs, ensuring minimum plugging of heat surfaces and good cleanability, which results in high availability and increases the overall production and efficiency of the plant.
— Complete white liquor plant, including efficient green liquor filtration with LimeGreen filters – producing clean green liquor and minimizing waste to landfill, white liquor filtration with LimeWhite filter – maximizing the white liquor quality, and efficient lime mud filtration with two LimeDry filters providing high dry solids content and low residual alkaline. The capacity of the recaustizicing plant is 15,300 m3/d. The delivery also includes two lime kilns (capacity 700 t/d each) with low heat consumption and low emissions to meet Arauco's tight emission permits.
"During the sales phase, we assessed the capabilities of the company and ANDRITZ demonstrated its competence, commitment and professionalism. Congratulations to the whole ANDRITZ team, who have worked hard, efficiently, and with passion and professionalism for this outcome. We are just starting, but I am sure this will be a great project for all concerned," says Franco Bozzalla, Senior VP Pulp and Energy at ARAUCO.
The MAPA project will renew and increase ARAUCO's efficiency and pulp production, and in addition, it will strengthen ARAUCO's competitiveness and leadership in global markets.