SCA Italy presents its first Italian Sustainability Report and introduces two new projects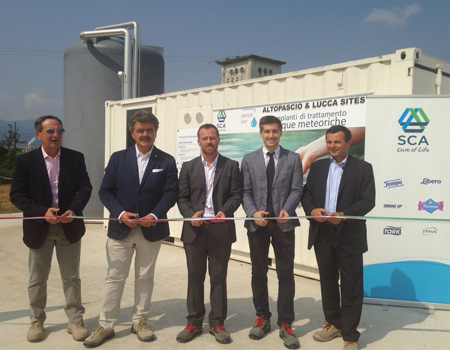 SCA Italy today presents its first Italian Sustainability Report and introduces two new projects aimed at improving the plants environmental sustainability.
With the attendance of Mr. Marchetti, Mayor of Altopascio, Mr. Matteo Francesconi, Capannori Environment Assessor and Mr. Baccini, Mayor of Porcari, SCA officially inaugurates two new projects:  the rainwater collection system in Altopascio and a waste water and rainwater system in Lucca.
SCA Italy, global leader in the hygiene and forestry industries thanks to its brands TENA, Nuvenia, Tempo, Tork, Demak'Up and Libero, today announces its first Sustainability Report entirely dedicated to the Italian market.
The Sustainability Report, which is being released by SCA Group for years now, is focused for the first time on the Italian market and sets out main company's achievements within three different areas: financial value, social value, environmental value.
As Europe's largest private forest owner, SCA places considerable emphasis on sustainable sources management, considering it as a value-adding factor to its operations and a fundamental benchmark for its business model.
In addition, during the event SCA officially inaugurates two new energy saving and environmental impact reduction projects for its factories in Lucca and Altopascio.
In particular, for the first time in the world within the Tissue industry, a rainwater filtration plant prototype has been realized in the Altopascio's mill, allowing the company to reduce its water supply from the underground aquifers up to 20%, with an overall provision decrease equal to 10 Olympic pools.
At the SCA's mill in Lucca the collection and treatment of waste waters has been improved, bringing the whole plant to be ranked in the 3 best SCA Europe's sites in terms of water consumption management.
"Sustainable Report announcement, together with the introduction of two new innovative projects for the energetic and environmental sustainability, testify SCA's continuous commitment towards the environment", said Massimo Minaudo, Country Manager SCA Italy. "SCA's objective is to constantly improve its activities, environmental impact reduction and development of environment-dedicated projects to benefit the communities where SCA operates".
"We are very proud to have SCA operating here for many reasons – said Mayor Maurizio Marchetti – including a work-related one. Projects presented today add great value for innovation, respect of our environment and sustainability, from any point of view. The town of Altopascio is fully committed in collaborating with clear-minded companies cleverly looking at the future like SCA. We are particularly interested in reducing carbon dioxide's emissions. According to Ancitel Ambiente e Energia, in 2013 Altopascio ranked first among the environmental safeguard chart of Italian districts registering more than ten thousand citizens. For this reason, Altopascio is very sensible to this topic and we deeply share SCA's philosophy".
"Environmental sustainability represents one of Capannori district's public administration main objectives – said Matteo Francesconi, Capannori district's Environment Assessor, – that is why we are really happy with good environmental practices SCA activated in the past and is now going to realize thanks to new plants' implementation. This represents a concrete example of how production and business can coexist, through forward-looking policies, with environmental sustainability. Our sincere congratulations then to this company, able to adopt values and actions that benefit our territory".
Mr. Baccini, Mayor of Porcari, commented: "It is pleasure for me to be here today, I confirm the successful collaboration between our Administration and SCA, that always considered sustainability as a fundamental value for our business model. We can now attest that our paper production process follows the most advanced industrial development policies, combined with energetic and environmental sustainability. In the past, it was wrongly retained that industrial development and respect for surrounding environments could not coexist, our companies are clearly demonstrating the opposite".