Competitiveness in the metal engineering industry for tissue passes through the continuous evolution of technology, increasingly attentive to energy efficiency and to environmental sustainability. Today more than ever, we feel the need to unite the technological aspect that sees innovation as the basis of perpetual research and experimentation, with an "artisan" know-how and with a relationship of renewed trust with customers. The tradition of the "artisan laboratory" thus becomes the starting point to build machines that confer greater guarantees of quality and efficiency. A philosophy that Recard S.p.A. – the Lucca company specialized in custom design and manufacture of equipment and machines for the tissue paper industry – has fully embodied, turning it into its greatest strength.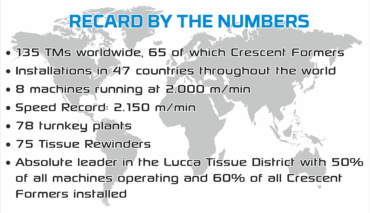 Artistry is also synonymous of uniqueness and this means that Recard products – machines and turnkey plants for the production of tissue paper, rewinders, pulp preparation machinery – have features that differentiate them from one another because they are manufactured according to the different needs of every individual customer. For over fifty years, the watchword at Recard has been "customization": there are no two machines alike.
"This approach", explains Mauro Michelini, General Manager of Recard S.p.A., "has been fully acknowledged and appreciated by the companies we have worked with and for us, seeing our customers' loyalty in renewing their trust in Recard when it comes to expanding their production by purchasing new machines or modifying existing ones, is a source of great pride".
Recard specializes in the custom design and manufacturing of equipment and machines for the tissue paper industry
And the number of contracts signed and orders received up to today certainly prove the company from Villa Basilica to be right. Of the over 130 machines supplied by Recard in the course of these 56 years and installed in 47 countries worldwide, almost 40% went to customers who already had more than one Recard machine. An interesting figure concerns in particular some companies who have purchased more than 2 machines. In pole position is the Carrara Group with a record 13 machines: a relationship established in 1998 that continues to this day.
The most recent start-up for them was in 2017 with M.C. Tissue's PM 5 that attained the record speed of 2,150 m/min. A reconfirmation that Recard has a solid base in the Lucca territory. Indeed, it holds the absolute leadership on the number of machines produced and distributed in the Lucca district with half of all the tissue machines currently running in the territory and 60% of all Crescent Formers. And many are the global customers who in the course of the years have renewed their trust in the company. Since 1990, Recard has designed and manufactured 7 machines for CMPC – Compañía Manufacturera de Papeles y Cartones – (3 of which at an operating speed of 2000 m/min) for the Latin American market. The Kruger Group has 5 Recard machines in South America, while among customers with 3 machines we find the Serbian company Drenik ND d.o.o.
For the latter, Recard is also the sole supplier of PMs for its Serbian facilities. Also Azur Papier, the company belonging to the group Lilas SAH (Société d'Articles Hygiéniques) headquartered in Tunis, has just chosen the Lucca company for the second time to enhance its production capacity. The supply entails a turnkey plant, with two virgin fiber stock preparation lines, a feeding unit, two rewinders and ancillary equipment, and is earmarked for the Zriba facility with start-up scheduled by the end of 2018.
"And it was actually the results obtained with PM1 together with the efficient assistance service and the optimal interpersonal relationship with Recard", underscores Jalila Mezni, President, CEO and majority shareholder of Lilas SAH – featured by "Forbes" in 2015 among the one-hundred most influential women in the Arab world – "that naturally led us to choose the company again for PM2. Recard's corporate dimensions are a guarantee and a certainty that we will be considered special customers and not merely a number."  For 2018, orders have arrived also from new countries not previously in Recard's portfolio such as Sweden.