Francisco Pérez, Chemical Engineer and General Director of Paniker for more than 30 years explains that "in the beginning, Paniker specialized in solvent-based adhesives for the footwear industry, but over the years, we diversified in markets such packaging, labelling, insulation, automotive and tissue".
Nowadays, the R+D+I Department is made up of specialized engineers trained in each sector of the market, who can adapt the products to suit the needs of their clients. The company has also invested in a new production plant specifically for tissue adhesives, which has allowed them to optimize production processes so that their clients can benefit from short delivery time.
With a total production capacity of 44,000 tons/year, Paniker's industrial products are currently utilized in more than 25 countries around the world. "We provide our clients with the know-how to solve their bonding problems, as demonstrated by the growth in the tissue market. For example, the performance of an adhesive in hot and humid climates is not the same as in cold climates; therefore we are technically prepared to provide specific solutions for each case", says Francisco Pérez.
Adhesives for converting: the tissue range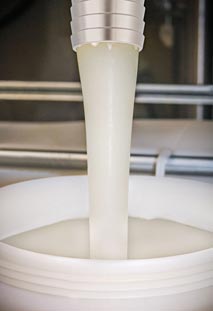 Throughout all these years, Paniker has been able to develop a complete and wide range of adhesives for Lamination, Pick Up, Tail Sail and Tube Winding, which are perfectly adapted to the needs of the market and comply with the FDA/BFR Regulations. Under TISSUECOL brand, the 900 'range developed for Lamination offers high dilution capacity and provides smoothness to the paper. Adhesives for Pick Up applications – TISSUECOL 910's and Tail Seal TISSUECOL 200's – offer the possibility of use from the first to the last piece of paper. Regarding the application for Tube Winding, EUROPANOL 8500's adhesives are perfectly adapted to different application systems, both for slow machines and fast machines, capable of reaching speeds of up to 120-150 m/min, and for tubes of 1.2 or 3 sheets.
Fernando Martinez, Engineer Responsible for Research, Development & Innovation of Water-based adhesives, highlights that "one of the advantages of using our adhesives for tissue is cleaning, both in application and machine adaptability. This is something that the market has always demanded and that we can technically provide". Furthermore, Paniker produces a range of Boric-free adhesives suitable to new market needs.