Georgia-Pacific is one of the biggest tissue producers in North America. However, in early 2000s as premium structured private label started to grow, the Quilted Northern brand of Georgia-Pacific came under tremendous pressure.
At that time, Quilted Northern was produced with conventional 2-ply dry crepe technology and research in 2010 showed that both consumers and retailers struggled with positioning the brand – it underperformed as a premium brand and was not price competitive as a value brand.
Retailers and consumers asked for differentiation and given that the company already held the number one position in the value segment, competing with themselves was not an option – instead product redesign and brand repositioning was the only alternative.
Joe Miller, Vice President of Research and Technology at Georgia-Pacific reflects back: "We had a technology that was invented and available, we had the experimentation capability in a pilot facility, and we saw the need. We did some product design work to hit that need which resulted in the invention of an ultra soft and strong product".
The technology was something that Georgia-Pacific had worked on since 1994 but truly defined in 2003 with the invention of eTAD – a paper making process for energy efficient technically advanced drying. It was more energy efficient than TAD and consumed less capital. It also enabled the potential for dry crepe machines to be converted to this new technology.
With the Advantage eTAD technology it is possible to achieve high-premium quality utilizing pressing in combination with Rush Transfer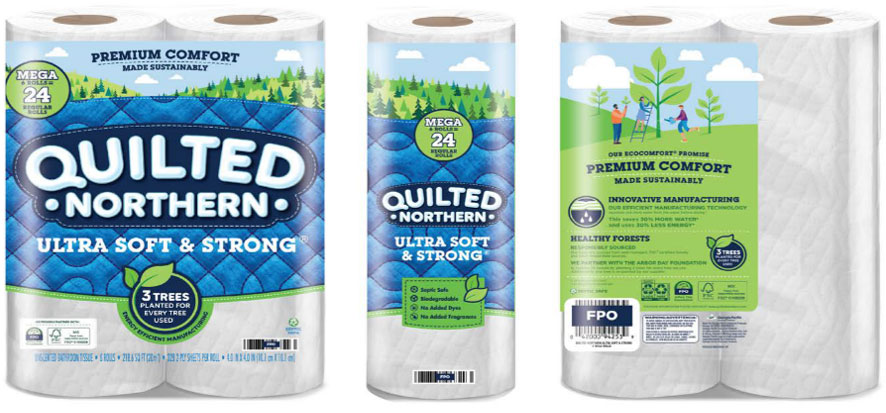 Georgia-Pacific decided that a re-build of their dry crepe machines was a cost-effective way to advance the technology. A series of investments culminated in two eTAD machines, located in Crossett, Arkansas, and in Port Hudson, Louisiana. Valmet was selected to construct both these projects and full-scale commercial production was started.
The new Quilted Northern Ultra Soft & Strong was introduced to the market in 2012. Consumers experienced that the product cleaned effectively, conformed well to the body, held up well in use and delivered an improved level of softness. Simultaneously, consumers reported differentiation in its durability because of the unique balance of strength and stretch in combination with enough softness.
Sustainability on everyone's agenda
The method of removing water through pressing instead of evaporating with hot air allows for about 30% savings in energy in the drying process. Equally, about 30% water savings can be achieved by reusing the recovered water extracted from the sheet. A major benefit of the eTAD technology is the capability of using alternative fibers such as recycled, straw or bamboo furnishes. As of today, eTAD does not have the same limitations in drying technology as TAD.