Non-woven Atrocross and multiaxial Atromaxx press felts are offering comprehensive product ranges in their individual design group to meet the requirements of press felt application. Either design group have their prominent advantages such as short break in time and high nip dewatering capacity of Atrocross or the great flexibility of base weave combinations of Atromaxx to meet individual and particular requirements which is important for customized well-engineered press felt application.
In addition to these two modern press felt design groups the classically woven, respectively laminated base weave felt designs, belong to the Heimbach assortment too. Even though the existing product spectrum of Heimbach is very sophisticated, Heimbach keeps on improving its existing product lines and developing new products for the marketing.
Atrojet is the brand name of one of Heimbach latest developments which is an innovating new press felt design combining the advantages of multi-axial and non-woven technology. With the multi-axial non-woven technology the Heimbach felt designers can meet the particular requirements of press felt positions even better. The specific quality of Atrojet is the structure of the base inside.
Innovating new press felt design combining the advantages of multi-axial and non-woven technology
With Atrojet the inside base facing the paper side consists of a unique non-woven layer. That layer of yarns is made of machine direction yarns only which results in great strength, evenness and smoothness of the base facing the paper side. The machine direction (MD) yarn structure is arranged in diagonal direction which is the characteristic multi-axial angle improving collapse resistance by increasing crossing points of all yarns. Broad flexibility is given by the fact that the nonwoven paper side layer can consist of different ply twist yarns as well as different yarn diameters and flexible yarn count.
The evenness and uniformity from inside the felt provides smooth felt surfaces through high contact area. The homogeneous and high contact area of Atrojet press felt base is superior among press felt technologies. Homogeneous compact felts are important features for Tissue felt application regarding even pressure transmission at the press nip which is key for even dewatering and even CD profiles of the paper.
The roll side base of Atrojet felts is made of multiaxial arranged components and are selected as per individual request concerning void volume, mechanical strength etc. and in context of the individual requirements of the position e.g. one or two nip positions or shoe press position, uhle boxes & vacuum rolls involved.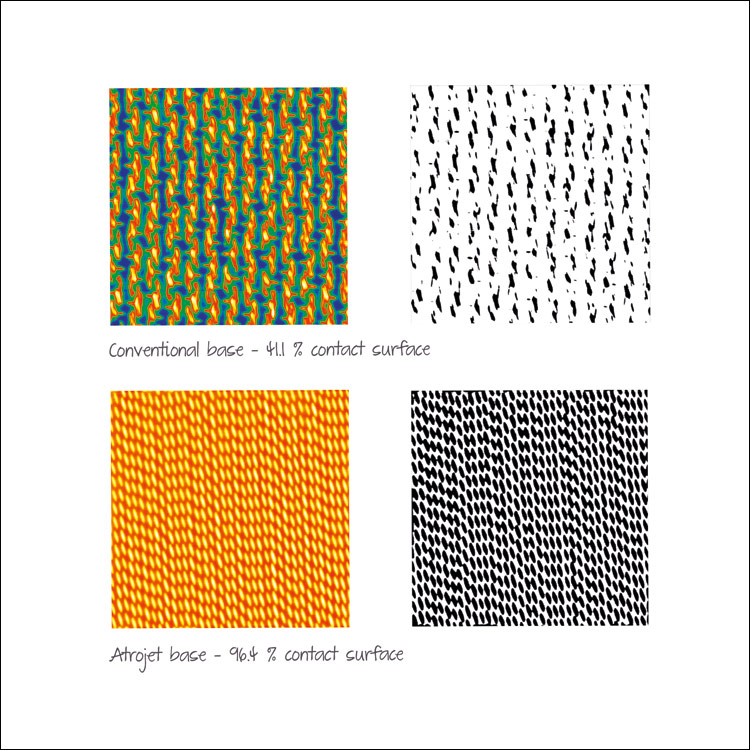 A typical Tissue machine could present the performance of a press felt in the proper light. Mileage of >100.000 km while passing about 6 Million nip cycles and handling >50.000m³ of water are normal requirements for a Tissue felt. In addition, the level of performance is expected to be at steady high level all along the service life of a felt.
Modern press felt designs from Heimbach are hightech products which meet these requirements. In case that process parameters vary very little the felt design can be fine-tuned to its maximum performance under those standard conditions.
As more the process parameters do vary as more challenging can be the designing to get an adaptable felt design.Typical example of varying process parameters are paper grade changes which include machine speed and paper weight changes but also affect usage of different furnish compositions like virgin pulp or recycled fibres as well as usage of wet strength resin or dye and fixative.
Atrojet represents the next evolutionary step in felts sector
Production planning is always aiming for as smooth as possible transition of process parameters during machine clothing lifetime. But these days flexibility can be key too, just to think of just-in-time deliveries, so sudden process changes may do occur. These changing conditions the press felt has to tolerate.
Here the Atrojet design flexibility can offer advantages to adapt to those changing conditions well. Thanks to the homogeneous and strong inner structure, which also contributes to high fibre batt anchorage, Atrojet has proven its robustness towards harsh high pressure shower cleaning which can prevent felt clogging e.g. when changing from virgin pulp to DIP and/or producing non wet strength to wet strength grades.
Atrojet has been proven itself in the field to be able to take up even long-term laminar HP shower at pressure in range of >30 bar. Heimbach has invested a seven-digit sum in its new Atrojet manufacturing facility. Atrojet production is in full swing since first quarter 2016.
Atrojet represents the next evolutionary step in felts sector. Heimbach press felt product line-up has increased its market-orientated approach through Atrojet again.