Prior to the spread of Covid-19 global retail tissue was largely dominated by store-based retail with 95% of sales occurring through these channels. The alterations in consumer sentiment towards physical store-based retailing forced the quick re-evaluating of stocks and supply chain for both manufacturers and retailers. This was a way to keep up with the higher than forecasted ecommerce demand. At the same time, the redirecting by consumers to such platforms, further opened doors for smaller domestic and regional brands, which had been gaining pace pre-Covid. Such brands have benefitted from greater agility in executing omnichannel strategies allowing them to achieve good levels of consumer engagement. In many cases, this consumer engagement has aided insurgent brands in raising their profile, especially as a result of product shortages. This allowed them to overcome the risk of uncertainty associated with lesser-known brands. The quick response to inventory shortages and embedded consumer communication methods across digital platforms is now a more crucial part of the consumer experience that goes beyond the product itself. This is especially true for younger generations such as Millennials. As the pandemic continues to escalate, remote working and studying becomes a new norm, especially as second wave of infections begin to emerge in numerous markets.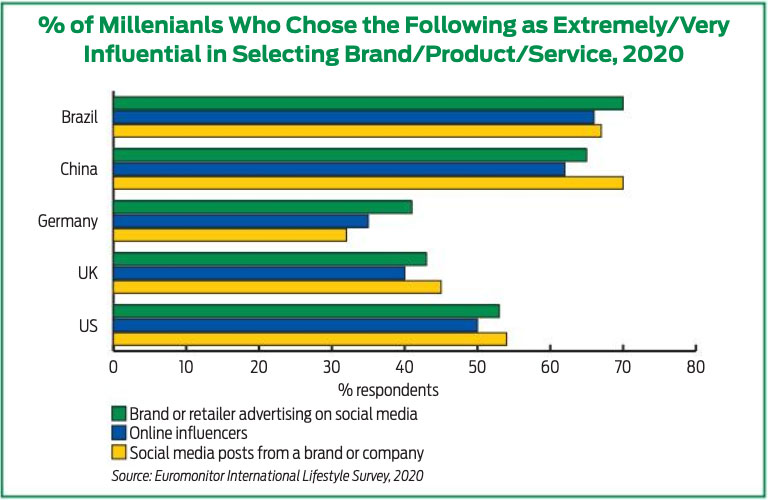 Demand for retail tissue products, as a result of more time being spent at home, is forecast to continue into 2021
Demand for tissue products is expected to be maintained for the rest of the year, but also into 2021. As widely reported in the media, the measures implemented to combat the virus, have a negative impact on the world's economy, which translates to a loss of disposable income for many households. As such, many consumers will be re-evaluating their spending, with much greater focus on value for money. Private label products are likely to benefit from this, as they are usually priced on a lower range, and the quality of these products has been improved in recent years, allowing accumulated private label to achieve a market share of over 20% in value terms in 2019. On the other hand, the emergence of the Corona virus has trickled into increased awareness of the already existing trend towards more sustainable products that are less damaging to the environment. Similarly, this is now interlinked with personal wellness in the eyes of the consumer. As affordability takes priority for consumers across the world, conscious of the economic impact of Covid-19, premium positioned brands are having to evaluate strategies that will allow them to compete with cheaper products in a more holistic manner. It is important these brands are able to convey tangible benefits to consumers looking to balance quality, convenience and value. The current retail environment, therefore, opens the door for increased rates of innovation for brands, with the key challenge to maintain a competitive price point. A clear approach towards more sustainable products in tissue had already began, especially by smaller eco-positioned brands, by moving away from plastic packaging. This phenomenon has begun spreading to larger well-known manufacturers such as Renova. Alternative fibres have also emerged to the market in recent years via start-ups such as UK based The Cheeky Panda. These products are produced out of bamboo, which is more renewable than trees and is naturally hypoallergenic. This allowed Cheeky Panda to win the 2019 award for "Most Sustainable Company in the Tissue Industry" in the 2019 World Finance Sustainability Awards Programme.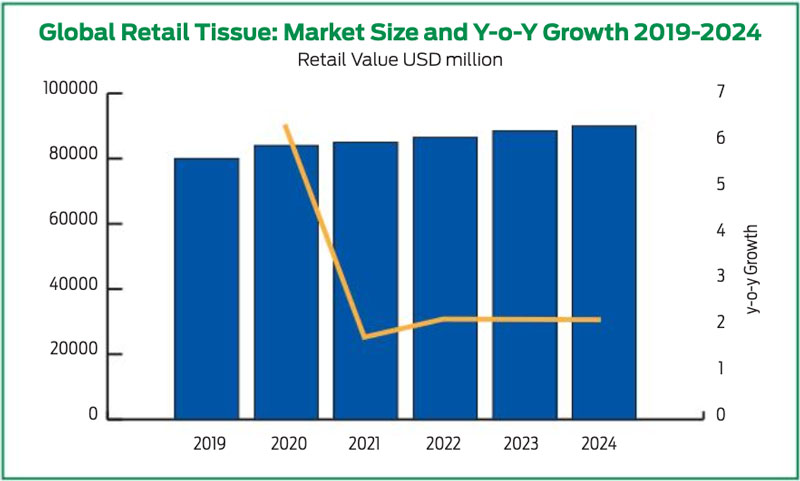 As eco-positioned products normally come with high price tags, this alone will not be sufficient to captivate new consumers and ensure brand loyalty. Brands competing in this segment must convey a clear message for the value of the product. Ensuring efficient omnichannel strategies for better convenience, as well as interaction and engagement with consumers is key to convey this message creating a holistic brand experience that goes beyond the particular product and the price. As concerns around the Covid-19 pandemic continue at the end of 2020, demand for retail tissue products as a result of more time being spent at home is forecast to continue into 2021. As demand remains and the discovery of ecommerce by many consumers has proven convenient, it is likely, especially in developed countries, that many decide to shift their shopping patterns for the foreseeable future. Therefore, increasing the engagement possibilities between brands and consumers virtually via popular platforms,
which is essential in this time of limited physical opportunities. Similarly, this shift in consumer behaviour places greater pressure on retailers and their integration of smooth online and offline experiences.