We, at NCR Biochemical, are specialized in the production of tissuemaking additives that match the latest mechanical innovations. We dedicated the last 15 years to develop technologies that allowed our customers to obtain high performances at convenient costs and lowest possible production losses. Thanks to a wide team of chemists, microbiologists, paper makers and engineers, we have developed an holistic and global method to help tissue producers increase their performances.
NCR team studies every element of the cycle and finds out the best solutions combining four key factors: latest chemical technology, knowledge of our experts, in-depth know-how of the applications, innovative dosing equipment. The final and unique goal is to drive customers to success.
Many chemicals have relevant impact on the final result of tissue production, and all of them must give benefits and Return on Investments to the mill. The package of treatments we supply include: Yankee Cylinder adhesive, release, coating modifier and protective technologies; Softeners, without debonding effect; Defoamers and Deaerators; Biocides and Antislime; Surface conditioning and cleaning additives; Antiscale, Antipitches and Antistickies, Dry strength, Temporary Wet Strength, etc.
The Yankee cylinder is the heart of tissue-making and the creping process is the fine art of papermakers. The application of chemicals on its surface gives quality to the paper and runnability to the machine.
NCR Biochemical drove the development of a large range of Yankee Cylinder additives, which represents its greatest success. We earned the trust of our customers and we are supplying over 80 of the fastest and most performing Tissue machines, mostly located in Europe, Middle East, Russia and China.
What can paper makers obtain through a dedicated and specific approach to the Yankee treatment? The most important achievable results are the quality of paper produced, reduction of costs and gain profit. Our target is to optimize the following parameters:
» increase runnability and treatment flexibility of all the operational conditions;
» decrease the daily loss of production;
» improve stability after blade changes or hood opening;
» lower the difference between crepe ratio and paper stretch and, whenever possible, increase elongations;
» eliminate film thickening at the edges;
» stabilize coating, even in case of extremely wet or dry profiles;
» give excellent protection to the Cylinder surface and doctor blades;
» produce softer Tissue paper;
» increase the quality of produced paper;
» reduce or eliminate pin holes on low and very low weight paper sheets;
» strongly reduce vibrations and, consequently, reduce or eliminate chatter marks phenomena;
» highly uniform the drying profile and Q data on all the sheet width.
These results can be achieved by using a dedicated group of products, designed for each machine, and considering all the elements involved: mix of used fibers, machine speed, other additives used in the process, YD heat exchange, YD surface characteristics, moisture profiles, blade holder, blade composition, angle of doctoring, blade stick-out, etc.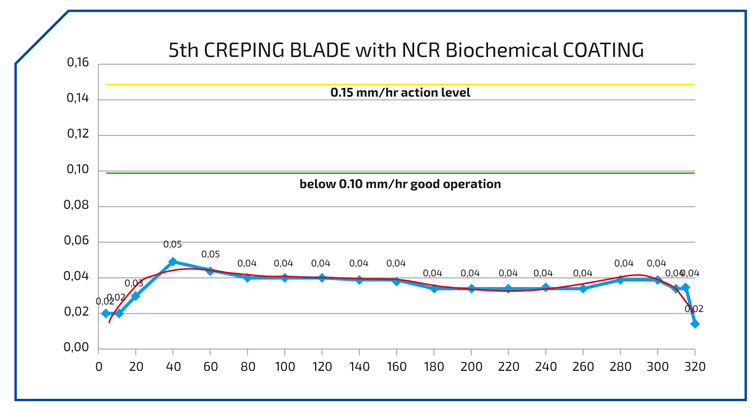 The best results cannot be achieved just by using chemicals. The appropriate dosing equipment gives perfection to the application. NCR engineers focus on producing extremely simple and efficient dosing stations for our chemicals. These stations are reliable for a long time and can bear critical conditions (wet and dusty environment) that are often present in Tissue mills production.
The study of the whole cycle is crucial to understand and decide the right combination of chemical, application and equipment. Only through a wide point of view and a global approach, we can solve any problem. Our specialized team will always manage the problems of Tissue mills like their own ones. Our passion for tissue paper brings us close to our customers and makes them satisfied and enthusiastic.