Eastern Europe ranked third in terms of growth, after Asia Pacific and the MEA regions. In 2016, retail consumer tissue sales in Eastern Europe recorded a 4% volume increase. Lower levels of per capita consumption in the region, compared to North America and Western Europe, leave room for further household penetration and industry growth.
On the other hand, at a regional average of 8.7kg per capita, demand for tissue products in the majority of Western Europe is seeing only marginal growth, due to market saturation and slow population growth. The exception is found in Turkey (tracked by Euromonitor as part of Western Europe). However, the political instability that characterised the Turkish market throughout 2016 can be expected to seriously hamper the region's ability to reach this potential in near future.
Bargain hunting in Russia benefits private label
Until the onset of economic recession in 2014, consumer tissue in Russia demonstrated healthy volume growth in retail, outpacing the European average. Over 2011-2016, consumer tissue retail sales grew by an 8% volume CAGR, expanding by an additional 120,000 tonnes. Per capita consumption of retail tissue products went from 1.9kg in 2011 to 2.7kg in 2016, up by nearly 30%.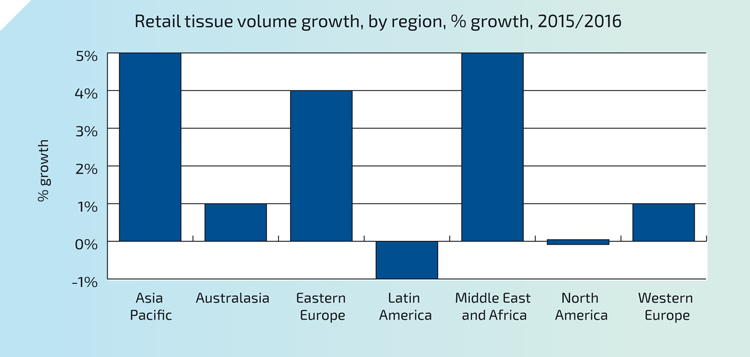 However, the pace of growth in 2014/2015 and in 2016 was only about half of that observed in the prior years, as the impact of economic and political struggles became increasingly difficult for Russian retail, with weakened consumer purchasing power restricting demand for consumer tissue.
Financial difficulties, however, have contributed to notable gains for private label tissue. While private label has led retail tissue in Western Europe for a long time, in Eastern Europe the concept of private label is relatively new. The expansion has been further supported by the rise of modern retail chains and investments by the leading retailers like Magnit and others into product production, supply and development. The latter trend has also led to growing consumer trust in the quality of private label products.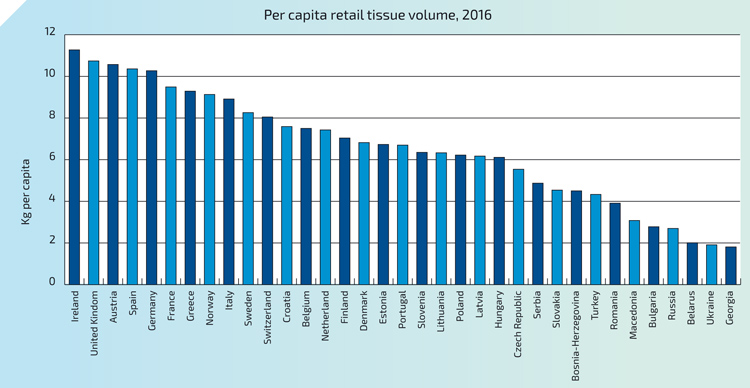 Private label in Western Europe
Achieving positive volume growth in 2016, private label continues to dominate Western European retail tissue sales. As a share of total tissue volume, private label held steady at 55% of sales in 2016. With private label players accounting for 79% of retail tissue volume sales, Germany represents the strongest market for private label tissue, both in Western Europe and globally. This is largely due to the strong market positions of leading domestic discounters like Lidl and Aldi. In the UK, the second largest retail tissue market in Western Europe, shoppers have become accustomed to making purchases only when discounts are offered.
The consumer tissue industry continues to expand globally
This behaviour has developed in large part as a reaction to a fierce price war among British grocery retailers. Initiated during the 2008/2009 financial crisis, the size and frequency of the discounts offered on tissue products peaked in 2014, as branded players brought unit prices almost to parity with private label. It has to be said, however, that as players have been reducing the depth of the price cuts they are still able to trigger spikes in sales. As a result, some brands saw success maintaining or increasing the frequency of discounting while backing off from the size and depth of actual price cuts.