Tissue paper trends
The global tissue paper market is constantly growing. In order to keep up with this continuous evolution Bolzoni Group is focused on providing the best and innovative solutions to forest products handling operators. Thanks to the close cooperation with the paper industry worldwide, the company is the most reliable partner in forest products handling. And when it comes to tissue rolls handling, which are bulky and can get easily damaged, Auramo has developed a dedicated clamp, for this special application.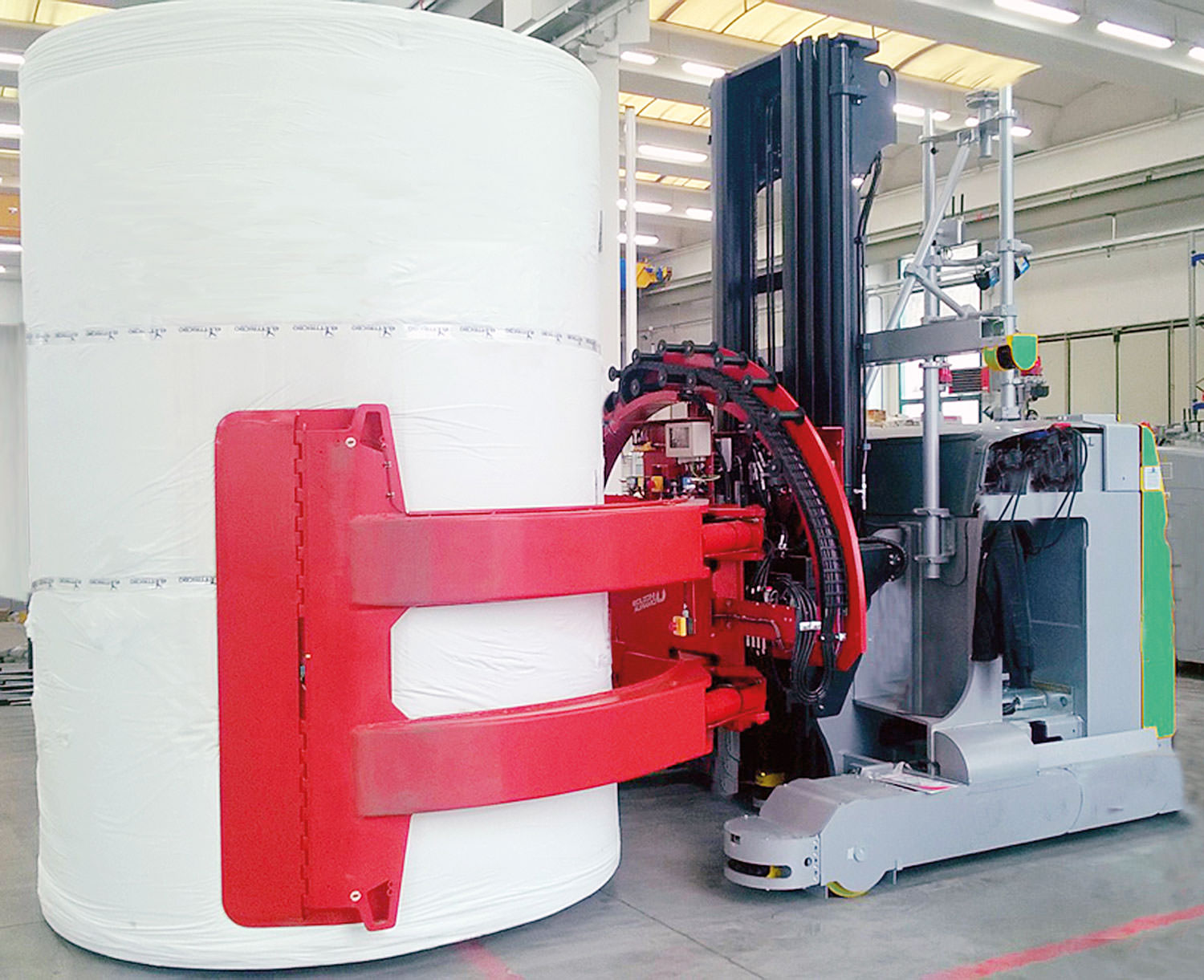 The right clamp for tissue paper rolls
Auramo provides the best and innovative solution to handle paper rolls in a damage-free and effective way. Auramo, beeing market leader in the sales of paper handling tools in Europe, created a complete range of well-designed and strong tissue paper roll clamps, with capacities starting from 1.500 kg up to 6.000 kg (3,000 to 13,000 lbs.) and with roll diameters up to 2.700 mm (106") in standard series. Dedicated tissue paper roll clamps are always built to be able to handle large diameter rolls; they also have higher and wider contact pads to reduce surface pressure on the soft paper.
Contact pads
Since contact pads are the most important part of the clamp attachment, Auramo has paid special attention in designing and manufacturing contact pads, which ensure safe and non-damaging tissue roll handling.
Common contact pad options are:
Single radius pads for hard and medium-hard paper grades.
Triple radius pads for hard, medium-hard and soft paper grades, especially on larger roll diameters.
Convex radius pads for very soft and hard-to-handle large diameter rolls.
Designed and dedicated clamp: ar-rt tissue paper roll series
The AR-RT series clamps are designed and developed to have superior visibility, great rotating speed and to be operator-friendly.
Its main features are:
Higher and wider contact pads to reduce surface pressure on all soft paper grades.
180-degree rotation, for vertical and horizontal roll handling with hydraulic cushioning in the vertical end position.
Smooth rounded arms, contact pads surfaces and corners to reduce roll damage possibility.
Bolzoni group is on the cutting edge: partner in agv automated solutions
The new challenge for companies that want to embrace the Industry 4.0 philosophy is automation. Bolzoni Group is strongly focused on the development of intelligent products, to be fitted on fork lift trucks, and on Automated Guided Vehicles too. Great investments have been done to support AGV specialists with a complete new range of hydraulically and electrically driven attachments. In the range we also have tissue paper roll clamps, in 180-degree rotation, developed in co-design with AGV manufacturers.
Optimized clamping force – key to damage-free tissue roll handling
Excessive clamping force is one of the most common causes of paper and tissue roll out-of-roundness damage. The varying paper roll hardness, weights and diameter plus the high value of the rolls themselves, are all factors requiring an extensive control of clamping force on behalf of the operator. In order to support the operator in the selection of the correct clamping force, we strongly recommend the use of FORCE MATIC, our automatic clamping force control system. This fully mechanical pressure control system can be applied to paper roll clamps, in order to prevent overclamping causing roll out-of-roundness.
Worldwide support
Thanks to the far-reaching service and support network, Bolzoni Group is strongly committed to providing our customers with high-quality service support before, during and after the purchase. When maintenance is required, our global service network is available, with equipped workshops, large spare parts storage and, above all, very skilled sales Engineers and a paramount after Sales Service.
---
Bolzoni, Auramo and Meyer are Bolzoni Group brands
The Bolzoni Group is a market leader in the production of forklift truck attachments, forks and lift tables.
The company has manufacturing plants in Italy, Germany, Finland, America and China and through its network of direct branches and independent dealers covering all continents it is able to satisfy all market requirements.
We are Bolzoni, the material handling group