Ecological agility
Eco-friendly packaging conversion is possible both on Amotek baggers and on complete Amotek packaging systems. This flexibility grants a big advantage for the final customer that can execute a multitude of green materials to replace PE partially or totally at its discretion, without applying any consistent modification on the existing equipment. Beyond bioplastics and compostable materials, Amotek is developing in partnership with leading bag makers, the most suitable type of paper bag to pack tissue disposable products obtaining positive results. Amotek also focused its research and development on consistent material savings in bag thickness to offer its partners eco-friendly materials together with a reduction of packing material up to 30 percent compared to the standard of use worldwide.
Fully-automated solutions for packaging of soft hygienic disposable products and consumer goods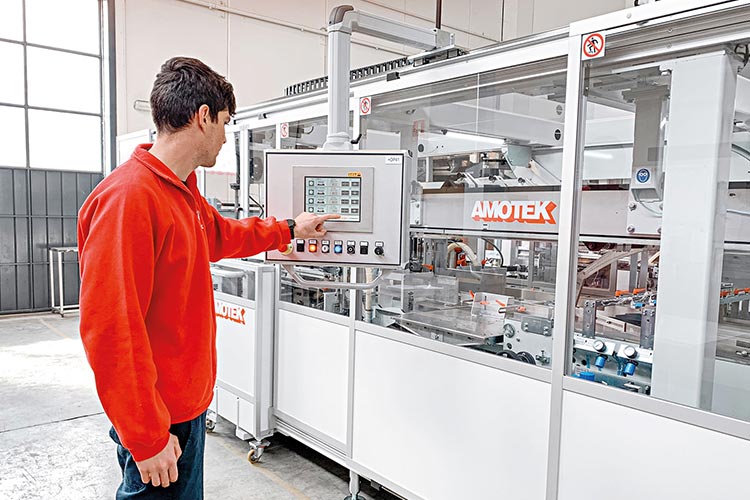 Innovation ability
Technology improvements are always appreciated among final users. Amotek found the right way to invest its resources in this sense to develop high-class components and
user-friendly tools. The aim is to give benefits to Amotek partners, increasing value, efficiency and granting a good quality to price ratio. This company vision positions Amotek not as a common brand only, but rather an ethical company oriented to preserve environmental quality and improve the productivity and efficiency of its customers, always supporting them with excellent tools.
Amotek's new sustainable machine generation offers several innovative points based on Industry 4.0. In particular, relevant improvements in terms of data collection and monitoring have been achieved and are now successfully adopted on all Amotek baggers.
The simplified usability has been reached with a new, smart and interactive HMI for a proactive and easier maintenance and assistance. A dedicated page displays the machine's production data in realtime showing the production performance. Upon demand, instead of the standard mirror's system, the state of the machine is continuously recorded through a video camera system to promptly react in the production process, improving quality by allowing the operator to watch in slow motion what is happening inside the machine.
During the whole lifetime of our machines, we listen to our customers and do our best to satisfy their needs
Two camera points are defined by default, while the third positioning is defined according to the customer's needs.
The improved user guidance allows users to have the necessary documentation related to the machines on-board. It can display a variety of content including the digital and interactive spare parts catalogue to facilitate the identification of the component to be replaced without any doubt. 3D video tutorials for size changeover and maintenance activities are based on images instead of written instructions to avoid wrong technical interpretation given from not native-speaker translations.
For many years, Amotek has adopted a controlled data connection to reach a high confidential level of its remote assistance according to the Internet of Things (IOT) era. Every connection is released through a specific protected server where access is only allowed from the customer and from Amotek technician only for the necessary time of the tele assistance with a dedicated password. It is an efficient and incisive method in compliance with standard cyber security and is constantly updated.
To grant access for remote assistance, it is no longer necessary to have the bagger always connected to the internet, but upon a specific customer demand, the connection is temporary and, in respect of the company privacy, other company data cannot be accessed.
Last but not least, Amotek offers a new generation of smart baggers with a renewed charming style and sturdier frame. As known, Amotek baggers are especially flexible, scalable, and customizable to adapt to different plant installations. Amotek provides very professional after sales service for all customers, no matter their level of experience. It is managed with care by a dedicated and experienced team of skilled personnel, with the goal to support customers from installation to the production phase.
Stay tuned
Get in touch with Amotek's new LinkedIn page to be constantly updated on what is going on with Amotek (www.linkedin.com/company/amotek).
The next unmissable tissue appointments to meet Amotek and to know more about technical developments are:
• Tissue World Istanbul, from September 15-17, 2020 Istanbul (Turkey). Amotek booth no. C115.
• MIAC show, from October 14-16, 2020 in Lucca (Italy).
Amotek will be at booth no. 121.