Presented in June 2015, Constellation™ has quickly become a success on a truly global scale: in just 18 months, over 50 lines have been sold throughout the 5 continents. A result fruit of considerable investments in means and people: 3 Constellation™ lines in Italy, Brazil and the USA are dedicated to customers to perform test and to confirm in an industrial production setting Constellation™'s exceptional performance in terms of product and technology. All these benefits are certified by the new Pivot service.
Pivot is much more than a laboratory for the characterization of the toilet roll or kitchen towel: it is the missing link between technology, the industrial process and the market. A holistic vision of business that allows generating true value in a commodities market such as tissue.
Constellation™ is the technology patented by Fabio Perini S.p.A., a solution that offers unprecedented winding quality. An innovative geometry consisting of mobile rolls with independent drives accompany the log from first to last sheet with consistency and uniformity.
Complete log control during its formation allows attaining production efficiencies unobtainable before. Log growth during winding is managed by an innovative algorithm that characterizes Constellation™ technology, and the machine operator's experience in continuous parameter setting is no longer an issue, thus eliminating variability in the finished product.
"Constellation™ is a milestone for the tissue industry", comments Matteo Benedusi, CSO at Fabio Perini S.p.A. "because it represents perfect winding, something never attained with traditional technology until today. And also because it is oriented towards Industry 4.0. thanks to the on-board software and hardware that allows interacting and retroacting with the machines upstream and downstream of the rewinder. This means optimizing the production process and hence maximizing the competitive advantage for all our customers". "The most important challenge we are faced with today", states Matteo Benedusi "is given by Industry 4.0. A great process change in the field that we have decided to interpret through our own vision that we have called Digital Tissue™".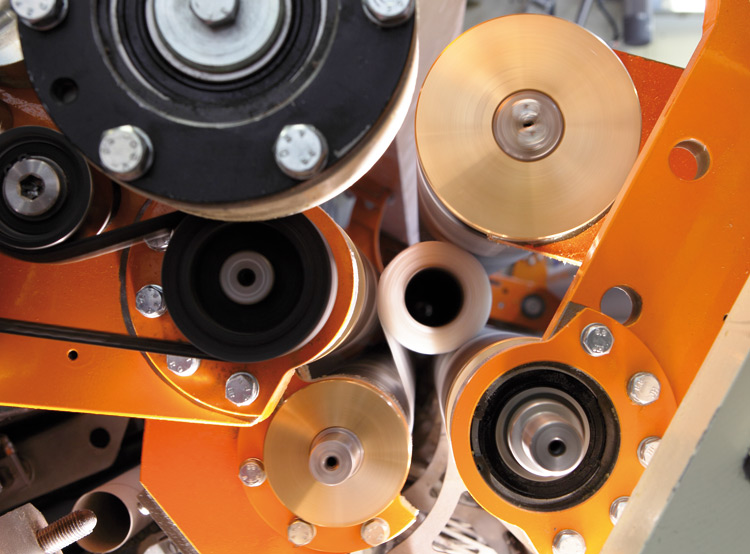 From the point of view of service, WeAreAble – Fabio Perini S.p.A.'s solution for remote assistance – is today a reality in our customers' facilities. "A solution designed and produced for the industrial manufacturing field", continues Matteo Benedusi "that allows benefitting from the experience matured by our technicians expert in maintenance and technical assistance in converting and packaging, as if they were actually present at the customer's plant. It is a helmet with on-board technology that allows sharing in real time videos, audio and documents between the operator on-board the machine and the expert online at our company's technical center".
The future is today. That's why we pursue a sustainable and profitable growth model
The WeAreAble device is comprised of bi-directional audiovideo instrumentation. Thanks to the incorporated visor, the two support video cameras – one located directly on the helmet and one hand-held – and the integrated audio and data connection, the technician from the assistance center can see exactly what the operator sees with WeAreAble and supply indications on how to proceed with resolving the problem. Additionally, through the incorporated visor, he/she can provide the line operator with line diagrams in virtual reality, useful for intervening on the system.
To alert and involve the group experts quickly and simultaneously, all that is required is to activate the connection from any part of the world the operator is in. "The WeAreAble device" concludes Matteo Benedusi "represents the first concrete example of innovation in the realm of Service 4.0 and the start of a new adventure as fascinating as it is challenging".
COMPANY PROFILE
Fabio Perini S.p.A. was born in 1966 in Lucca, Italian hub and world tissue production and converting technology center. Today, with its 5 production facilities in Italy, the United States, Brazil and China, it helps its customers stay competitive and grow thanks to complete production solutions for converting and packaging. Technology, globalization and ongoing, continuous investments in research have led the company to stand out internationally and to be acknowledged as a true excellence in the world of tissue.