HWK produces function rolls for Palm's new paper machine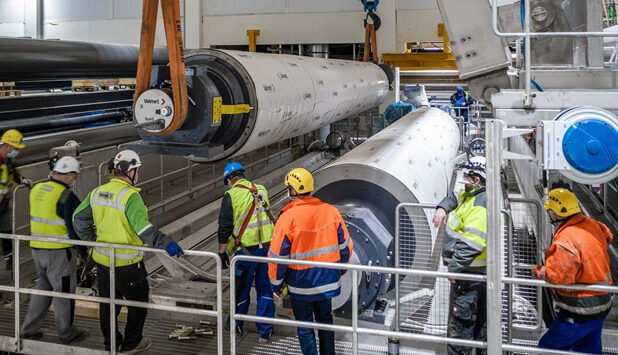 At the construction site of the Palm paper mill in Neukochen, the assembly of the world's fastest and widest corrugated base paper machine is now in its final phase. The main supplier for the paper machine is the Finnish company Valmet. In addition to many innovations regarding energy efficiency, product quality and resource conservation, the new film press with its special function rolls for the surface application of starch is a vitally important technical feature.
The applicator roll installed in the new film press is 11.6m in length, 1.8m in diameter, weighs 73.1 tonnes and is the world's largest roll of its kind. Likewise, the mating roll known as a Sym Z deflection compensating roll is also one of the world's largest and heaviest function rolls in the paper industry, 11.8m long, 1.4m in diameter and has a total weight of 93 tonnes. The cast roll shell is of paramount importance for ensuring the quality of the paper. This shell was specially cast by Hüttenwerke Königsbronn in coordination with the Palm paper mill on behalf of Valmet.
In total, several roll shells with a unit weight of approx. 50 tonnes each were manufactured by Hüttenwerke Königsbronn for the new paper machine in Aalen.
The new coating process developed by Valmet was especially designed for packaging papers with a high proportion of recovered paper. Recycled fibres lose some of their strength with each recycling cycle, which places higher demands on the papermaking process. Compared to conventional starch application systems, the technology on the new paper machine in Aalen presses the starch deeper into the paper, giving the finished paper a stronger fibre bond. As a result, resources can be conserved in terms of the fibres and starch used.